Bury St Edmunds Catholic school 'shock' at inclusion on Ofsted extremism list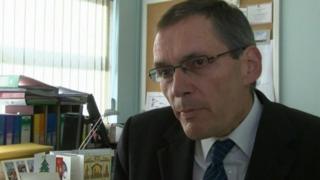 A Suffolk head teacher said he was "shocked" by his school's inclusion on an Ofsted list of 11 schools accused of not warning pupils about extremism.
Ofsted included St Benedict's Catholic School, Bury St Edmunds, on the list of places "not teaching respect for and understanding of the various faiths".
The school claimed further inspections had shown it had a model citizenship programme.
Ofsted said it was meeting with the Catholic Education Service (CES).
The school said an inspection in September had led to its inclusion on the list for not having its citizenship curriculum on its website.
Subsequent inspections have taken place, but the results had not yet been published.
Hugh O'Neill, head teacher at St Benedict's, said: "I'd been assured by the second inspection team that they had no cause for concern.
"I was surprised because I thought all of that business about us failing to educate children about the dangers of radicalisation and extremism had been taken out of the Ofsted report.
"I don't think there can be any real case for us still being on that list."
The school was still on the list of 11 mentioned in a letter published last month by Ofsted's chief inspector Sir Michael Wilshaw.
He had been discussing "no-notice" inspections at 35 schools.
An Ofsted spokesman said: "Inspectors found a number of the schools could have been doing more to prepare pupils for life in Britain.
"This definition covers a wider range of issues other than dealing effectively with extremism and radicalisation and includes how a school's curriculum and other activities raise the pupils' awareness of different aspects of how our society works."
The CES said it would raise the issue Ofsted was due to to hold a scheduled meeting at which the CES said it would raise the issue.