Future of Suffolk punch horses 'very positive'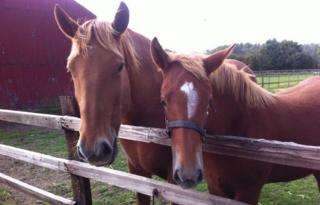 The future of the critically endangered Suffolk punch horse is "very positive", the Rare Breeds Survival Trust (RBST) has said.
Figures to be published in January show there are 170 registered adult breeding females, compared with 138 in 2012.
The breed is on the RBST's critical list.
Claire Barber, from the trust, said: "They're one of the few breeds showing small increases in their population, which is very, very positive."
The number of Suffolk punches started to decline in the 20th Century as mechanisation reduced the role they played for farmers.
The Suffolk Horse Society said the low point was in the 1960s.
It says there are now about 520 Suffolk punches worldwide, mainly based in East Anglia, although the biggest breeder is in Worcestershire.
Ms Barber said: "There has been an increase up to 170 adult breeding females, which doesn't sound like a huge number but it is an increase on the previous year (151) of more than 5%.
"For a breed that is in our critical category, for them to increase in numbers takes quite a considerable amount of effort on behalf of the breeders."
Ms Barber said the financial crisis had played its part in stunting the resurgence of the horses, which cost "at least" £150 a week to look after.
"The success is tempered with that problem - that people are losing their jobs or money is tight," she said. "These are very expensive animals to keep and breed.
"So I think we still have to remain a bit cautious, because we're not out of the woods."
Tracey Pettit, stud manager at the Suffolk Punch Trust, said the horses' temperament and sturdiness was an appeal to potential owners.
"The breed is something else," she said. "They don't bat an eyelid at much and riders know they'll be looked after by their horse.
"They are part and parcel of our history, but that doesn't mean they should be consigned to history."