Lowestoft third crossing: Recommended option criticised by Peter Colby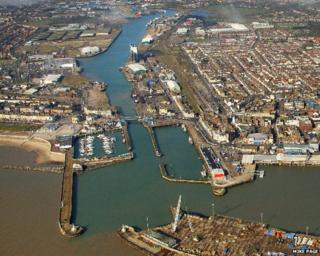 A study has revealed the preferred £95m option for a third waterway crossing in Lowestoft, but a local businessman says his proposal would be cheaper.
Suffolk County Council commissioned independent engineers WSP to produce a report last year.
WSP has favoured a four-lane lifting bridge to the west of the existing Bascule Bridge.
Peter Colby, a local businessman, claimed his barrage bridge proposal would cost £65m.
WSP looked at a western, central or eastern crossing of Lake Lothing and recommended an eastern crossing linking Belvedere Road to Denmark Road via Commercial Road and a new bridge over the railway.
---
WSP's Lowestoft third crossing options and costs
Western bridge - from Waveney Drive to Peto Way, not costed by WSP due to "lack of support"
Central bridge - from Waveney Drive/A12 roundabout to Commercial Road with railway bridge, £116.5m
Eastern bridge - from Belvedere Road to Denmark Road with railway bridge, £95m
---
Peter Aldous, Conservative MP for Waveney, said it was a "significant step forward" in dealing with road congestion around the Bascule Bridge.
"Most importantly it will not have a negative impact on the port, which supports 1,100 jobs and provides about £79m to the economy per annum," he said.
Peter Colby, Lowestoft businessman and commercial property developer, said his central location proposal for a Dutch-style barrage crossing linking the Waveney Drive/A12 roundabout with Rotterdam Road would only cost £65m.
He said: "I don't believe [the WSP preferred option] is the right crossing or that they've really considered the barrage crossing.
"The port is not very busy and one could say it's run-down - and the central crossing option is well clear of the turning circle [for boats]."
The WSP report said a bridge at the central location would cost £116.5m and Mr Colby's barrage scheme had "disadvantages... particularly in respect of the harbour operations and associated impacts on potential incoming future investment in the town".
Mark Bee, Conservative leader of Suffolk County Council, said: "We've got to come up with a project that's going to work and tick the boxes as far as releasing government funding is concerned.
"There is no point in putting forward something that doesn't do the job it's got to do and messes up the port."
Mr Bee said the county council and Waveney District Council would now consider the report fully before putting a detailed case for funding to the government.