Suffolk ecstasy deaths: Police leaflets warns public of dangers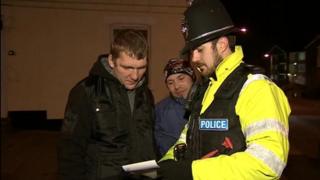 Leaflets are being handed out by police in Suffolk warning of the potentially fatal effects of a dangerous batch of ecstasy tablets which are feared to be responsible for the deaths of four men.
Two men from Ipswich have been named locally as Justas Ropas, 22, and Gediminas Kulokas, 24. They died on Christmas Eve and New Year's Day.
The deaths of John Hocking, 20, from Rendlesham and a 27-year-old from Telford have also been linked to the drug.
Three men from Ipswich, aged 19, 20 and 26, have been arrested on suspicion of being involved in the supply of controlled drugs.
A fifth man, from Provan Court estate in Ipswich, who was reported as being unwell along with Mr Kulokas, was taken to hospital by air ambulance in a serious condition but is now recovering, Ipswich Hospital said.
Suffolk Police have urged anyone in possession of the red triangular pills marked with the Superman "S" logo to hand them in to prevent further deaths.
'Amazing' response
Cdr Supt Louisa Pepper said: "Our focus remains the prevention of further harm to our communities by taking these drugs off the streets.
"We're saying to anyone who's got them to surrender them to us - they are dangerous, if you take them they are potentially fatal.
"We won't be arresting you and prosecuting you - these drugs are that dangerous we need to get them off the streets."
Speaking on the Today programme she added the men who died from Ipswich were from the Lithuanian community.
"The response we've had from the community has been amazing," she said.
"We've had one individual hand over some pills and it was very interesting what he had to say. We've really been encouraged by the community's reaction."
West Mercia Police believe the Telford man's death on New Year's Day, which is subject to a separate inquiry, could be the result of taking the same "S" logo drug.
They contained a large concentration of PMMA, a substance with ecstasy-like effects but which is slower-acting than MDMA, traditionally the main component of the tablets.
Their slower effect causes people to take more of the pills because they think the drug is not working.