More than 400 Superman ecstasy pills found in Ipswich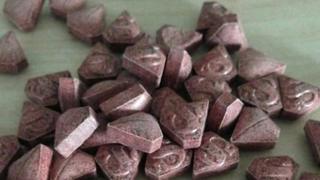 More than 400 ecstasy tablets believed to be from a batch linked to the deaths of four people have been found.
Police believe the deaths of three men in Suffolk and a man in Telford, Shropshire, were caused by a batch of ecstasy carrying a Superman motif.
The pills were found hidden "in a public place" near Norwich Road in Ipswich on Sunday, Suffolk Police said.
A 28-year-old man has been charged with being concerned in the supply of ecstasy over the Telford death.
Damian Malolepszy, of Redlands Road, Telford, is also accused of possessing methylamphetamine with intent to supply.
He was remanded in custody.
Two men from Ipswich who died have been named locally as Justas Ropas, 22, and Gediminas Kulokas, 24.
They died on Christmas Eve and New Year's Day respectively.
The deaths of John Hocking, 20, from Rendlesham in Suffolk, and a 27-year-old from Telford, who both died on New Year's Day, have also been linked to the drug.
Police have advised people to dispose of the ecstasy tablets, none of which have been handed in as part of an amnesty.
Adrian Lubecki, 19, from Ipswich, appeared before magistrates in Ipswich earlier, accused of supplying class A drugs between 21 December and 2 January.
Mr Lubecki, of St Matthew's Street, is also charged with being in possession of amphetamines, with the intent to supply.
He has been remanded in custody and is due to appear at Ipswich Crown Court on 15 January.
One man is still recovering in Ipswich Hospital after taking a tablet, and another man has been discharged after he claimed to have taken one.
Ch Supt Jon Brighton said the discovery in Ipswich was "significant" but said it was not known how many of the tablets remained in circulation.
"People taking these pills are playing Russian roulette with their lives," he said.