Felixstowe Spa Pavilion: Deal expected on venue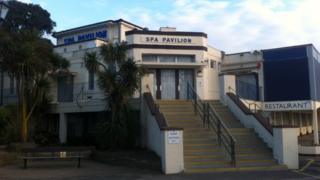 A deal to reopen a Suffolk theatre, which closed two years ago, is expected in "a few weeks".
Felixstowe's Spa Pavilion was closed after Suffolk Coastal District Council said it could no longer pay £250,000 a year to keep it open.
The council, which owns the building, has been searching for a new owner.
Ray Herring, council leader, said: "We have a business interest who's put forward a proposal and we're finalising an agreement to sell."
The 800-seat venue on the seafront closed in January 2013 after the council ended its subsidy to the private operator which was managing the theatre.