Ecstasy death men played Russian roulette, Suffolk coroner says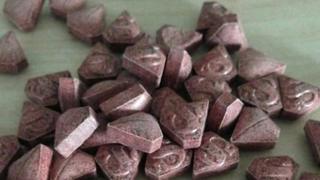 Three men who died after taking the drug ecstasy were playing "Russian roulette", a coroner has said.
Two Lithuanian men and one British man died in Suffolk over the Christmas and New Year period.
Suffolk Police told an inquest two of the men were believed to have taken a batch of the drug embossed with the Superman "S" logo, believed to contain the substance PMMA.
The coroner adjourned the hearing while the police investigation continues.
Justas Ropas, 22, was found at his house on Bramford Lane, Ipswich on Christmas Eve, while Gediminas Kulokas, 24, died at Provan Court in the town on New Year's Day - his birthday.
'Sweating and shaking'
The inquest in Bury St Edmunds heard both had drunk alcohol and taken Superman ecstasy pills.
Mr Ropas was found dead in his bed by his younger brother, while Mr Kulokas died at his home following a New Year's Eve party where he started sweating and shaking and then stopped breathing.
Mr Hocking, 20, of Woodbridge, had drunk alcohol and taken cocaine and ecstasy on New Year's Eve, when he had been to a pub in Rendlesham and then to a friend's house in the village.
He also started sweating and shaking and stopped breathing. He was pronounced dead the next morning.
Det Insp Caroline Millar told the inquest there was "no apparent link with the Superman drug" in his case.
Dr Peter Dean, Suffolk coroner, said: "It's Russian roulette - you don't know what you are taking and what the risks are."
Police are waiting for final toxicology reports following post-mortem examinations on the three men.
As part of the police inquiry, Adrian Lubecki, 19, of St Matthew's Street, Ipswich, appeared at Ipswich Crown Court on Thursday, when he pleaded guilty to two drugs supply offences.
He is due to be sentenced on 16 February.