Constable masterpiece 'coming home' to Ipswich's Christchurch Mansion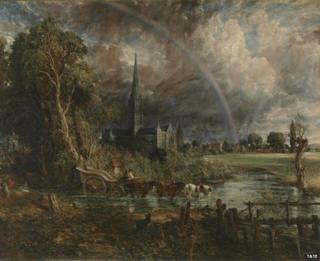 A painting considered to be a "true masterpiece of British art" is heading to Ipswich for a year-long exhibition.
John Constable's "Salisbury Cathedral from the Meadows" will go on display in Christchurch Mansion from next month until January 2016.
The artwork, painted in 1831, is normally part of the collection at London's Tate Gallery.
Christchurch Mansion said the painting would be "coming home" to Suffolk, where Constable spent much of his life.
"We are delighted to be hosting this true masterpiece of British art here at the Mansion," said Bryony Rudkin, culture portfolio-holder at Ipswich Borough Council.
The museum houses a number of other works by Constable.
"The arrival of what the artist called 'My Great Salisbury' will complement Ipswich's collection of Constables - the most significant outside London - and will be a major boost for Ipswich and Suffolk's cultural tourism offer," a spokesman said.
The masterpiece was at risk of being sold abroad when it was bought by the Tate in 2013 for £23.1m, thanks to grants from the Heritage Lottery Fund, the Art Fund, The Manton Foundation and Tate Members.
It had previously been on loan at The National Gallery.
A project to enable the work to be loaned out to different museums around the country was created by five partner organisations after it was bought by the Tate.