Lowestoft marks Holocaust Memorial Day with service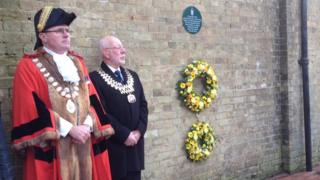 A memorial service has been held in Lowestoft, where more than 200 Jewish evacuees escaped to in 1938 in the build-up to World War Two.
About 50 people attended the wreath laying ceremony at the railway station.
A candle designed by Sir Anish Kapoor was later lit at the town's Ormiston Denes Academy.
Mayor of Lowestoft Stephen Ardley said: "The day will be a celebration of the ones who got rescued and a memoriam for the ones who unfortunately perished."
An annual event is held on 27 January to coincide with Holocaust Memorial Day. It is 70 years since the liberation of the Auschwitz concentration camp.
Mr Ardley said most of the evacuees who came to Lowestoft were children from Poland, Czechoslovakia and Germany.
"They arrived on a cold December day to be given safe homes - it must have been scary for them.
"Some of them never saw their parents again."
The candle lit in Lowestoft was one of 70 commissioned by the Holocaust Memorial Day Trust for this year's commemorations.
The 20cm candles have the wick surrounded by three wax walls and a ceiling to allow the flame to be visible only from the front.
Olivia Marks-Woldman, chief executive of the trust, said: "These 70 candles will represent the 70 years which have passed since the liberation of Auschwitz-Birkenau, the largest Nazi death camp."