Council backs plans for third Lowestoft bridge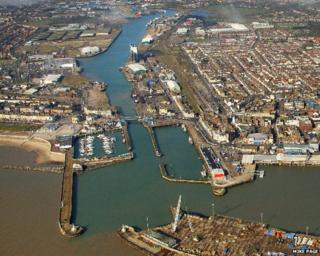 A £94m plan to build a third bridge over Lake Lothing in Lowestoft has been backed by Suffolk County Council.
It announced its support for the plan for a new crossing next to the existing Bascule Bridge at a meeting on Tuesday.
The plans will be discussed at a public meeting in the town on 18 February. A timescale for the project, which will need extra funding, has not been set.
However, some campaigners say the bridge is the wrong option and are calling for an alternative scheme.
Bob Blizzard, Labour's parliamentary candidate for Waveney, is hosting a meeting later to try and gain support for a bridge to be built further away from the Bascule Bridge.
He said having two bridges close together would maximise disturbance to the road users, as both would need to be lifted at the same time to allow boats to pass.
Suffolk County Council said it considered two ideas for a more central crossing but believed its plan for the eastern end of the lake will be the most "cost effective" and appropriate option.
It has sent a report to the Department for Transport and the Highways Agency.