Sheepskin firm Fleece and Hide sets up in Bungay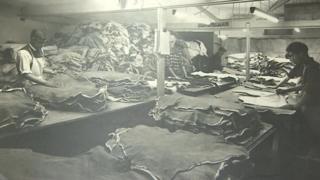 A new manufacturing firm has been set up aiming to preserve skills in a town where a 169-year-old sheepskin firm closed this month.
Nursey Sheepskin of Bungay in Suffolk employed 85 staff in the mid-1980s, but was down to seven workers.
Fleece And Hide has now been established in the town, with six directors and production staff.
Three of its staff used to work at Nursey and it hopes to take on local apprentices.
Famous wearers of Nursey sheepskins have included David Jason as Del Boy in TV comedy Only Fools And Horses, BBC football commentator John Motson and guitarist Eric Clapton, but the firm cited lack of current demand as the reason for its closure.
'Not naive'
Hilary Mason, Fleece And Hide's marketing director, said: "With Nursey closing we just felt so strongly that the knowledge and experience of this specialist form of manufacturing deserved the kiss of life.
"We are not naive about the challenges of manufacturing in sheepskin and leather - we'll do the traditional stuff, but we're also aiming to do high-end fashion and there is definitely a market for menswear as it is the fabric of the moment."
The new firm said it would use sheepskin supplied by the Devonia tannery in Devon and would also import from Spain and China.
John Pestell, former president of Bungay Chamber of Trade, said: "Nursey was Bungay's longest established business with a famous product.
"It's important for someone to keep Bungay's name at the forefront of business, and to keep these skills alive in the town."
Fleece And Hide said it was taking bespoke orders and hoped to have its own range ready by autumn.