Ipswich Borough Council looks to buy Grafton House saving £300,000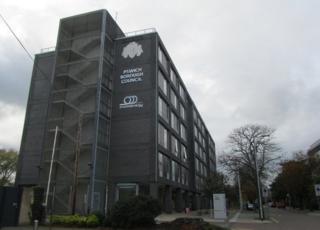 A council is aiming to save about £300,000 a year by buying its main headquarters, which it currently rents.
Ipswich Borough Council moved into Grafton House on Russell Road in 2005 on a 15-year lease.
The Labour-run council said mortgage repayments would be less that the amount it pays in rent.
The council said a sale price had been agreed, although it would not be revealed until it was completed, which should be by the end of March.
David Ellesmere, council leader, said: "This will save a significant amount of money as our borrowing repayments would be less than the rent we are paying at the moment.
"We have negotiated a sale price, but the vendor, who wishes to remain anonymous, does not want that made public at the moment."
The council added, once the sale was complete, it would consider building a staff car park on waste ground to the rear of Grafton House.
This would free up spaces for the public in the Portman Road car park, where council staff currently pay to park.
A decision on buying Grafton House is due to be made at the council's executive committee meeting on 10 February.