Freston church: Toby Millett sentenced for indecency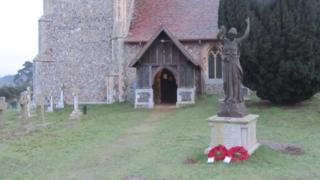 A 40-year-old man, who exposed himself in a church porch and wore a war memorial wreath on his head, has been given a suspended sentence.
Toby Millett, of Harkstead near Ipswich, pleaded guilty to engaging in indecent behaviour at St Peter's Church in nearby Freston in December.
Ipswich magistrates heard a CCTV camera recorded him in the porch with his trousers around his ankles.
Millett was given a four week jail sentence suspended for 12 months.
He was recorded carrying out the offence at about 01:40 GMT on Sunday, 21 December and was reported to police after a church member viewed the footage.
'Committed in drink'
The prosecution said he wandered around the porch exposing himself for "quite a few seconds".
Ian Devine, prosecution counsel called it an "unusual offence" and said Millett, who lived with his mother, had "multiple previous convictions".
Larissa Hutson, defence counsel, said: "He is genuinely sorry and he fully accepts there is no reasonable explanation for his behaviour which was completely lacking in respect and sensitivity.
"He told me the offence was committed in drink - he was drunk."
The defence said he had visited an alcohol treatment centre since the incident and he intended to write to the vicar to apologise.
Millett, who is claiming job seekers allowance, also has to pay £40 costs and a £80 government surcharge.