Ipswich being 'held back' by political squabbling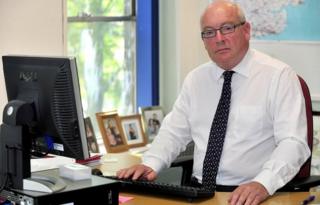 Political squabbling between two councils is stopping Ipswich from "fulfilling its potential", a newspaper editor has said in an open letter.
Terry Hunt said it seemed there was an "apparent inability" or "unwillingness" from Ipswich borough and Suffolk county councils to work together.
Recent disputes between the authorities include a disagreement about the design of "welcome to Ipswich" road signs.
Leaders of both councils insisted they were "making good progress".
In the letter, addressed to county council leader Mark Bee and borough council leader David Ellesmere, Ipswich Star editor Mr Hunt said he believed the town had "great potential".
"There is increasing frustration among people I speak to about the apparent inability, or perhaps it is unwillingness, of Ipswich Borough Council and Suffolk County Council to work closely together for the future good of Ipswich," he said.
A £3.5m project to redevelop the Cornhill is on hold, with the borough council claiming the county council is refusing to invest in the scheme.
The authorities also recently clashed over whether electronic signs directing motorists to car parking spots should be installed.
David Ellesmere, leader of Labour-run borough council, said he was "very happy" to work with the county council.
"In two specific areas, the Cornhill regeneration project and digital information for car parks, we do need some clarity from the county about funding so we all know where we stand," he said.
"I'm seeking an urgent meeting with Mark to discuss this."
Responding to Mr Hunt, Mark Bee, leader of the Conservative-run county council, said many of the schemes discussed were "cosmetic".
"We must get the fundamental elements in place before we start to worry about buying and installing new welcome signs," he said.
"I have been very clear that Suffolk County Council is contributing to town centre development and we are willing to work with the borough council to support further funding bids towards a revamp of Cornhill," he said.