Suffolk County Council approves £38m budget cuts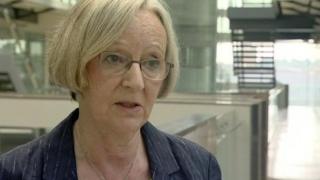 Budget cuts of £38.2m have been approved by Suffolk County Council.
The Conservative-run council will have a budget of £454.9m for 2015-16. It said £24.6m would be saved by redesigning services.
Further job cuts are expected in the children and young people's services. Council tax has been frozen.
The opposition Labour group had criticised the proposed plans, saying the council should dip into its £165m reserves.
However, the council said about 80% of its reserves had already been earmarked for other projects, including a £6m broadband rollout and £2m to improve education.
Staff reduced
Councillor Jenny Antill, cabinet member for resource management, said: "These are incredibly testing times for local government.
"We have developed a range of transformation programmes that should allow us to do more with less over the next three years, and beyond."
The council expects to have to save a further £120m over the next three years.
Since 2010, it has already made £130m of savings, as a result of the government's austerity programme.
Its workforce, excluding schools, has almost halved, going from 10,456 members of staff in April 2010 to 5,574 in December.