US Lakenheath fighter jet crash in Lincolnshire cost revealed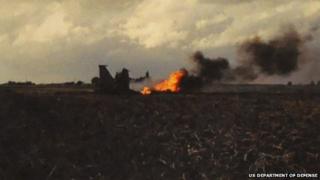 A US fighter jet crash destroyed a £28.6m ($44m) aircraft and left a clean-up bill of nearly £400,000 ($600,000), an investigation revealed.
The pilot ejected safely from a F-15D during a training exercise in October.
The plane, based at RAF Lakenheath in Suffolk, crashed into a field near Spalding in Lincolnshire.
Documents released by the US Department of Defense under the Freedom of Information Act do not reveal what caused the crash.
The jet was on a training exercise with another F-15D when it went into a flat spin at 15,000ft (4,600m) above sea level at about 15:28 on 8 October.
The pilot, who had the rank of captain, ejected at about 6,000ft (1,830m) above sea level.
The aircraft landed and was on fire in a field a few hundred yards from the village school and housing.
British Ministry of Defence officials from RAF Wyton in Cambridgeshire were in charge of cleaning the field at an estimated cost of £393,235 ($605,405).
---
Environmental clean-up costs
excavation/removal of contaminated soil: £52,296 ($80,513)
transfer of contaminated soil to landfill: £284,921 ($438,651)
reinstatement of topsoil: £55,373 ($85,250)
labour and equipment costs: £644 ($991)
The USAF will pay for 75% of the clean-up, with the remaining 25% paid by the British Ministry of Defence.
A USAF spokesman at RAF Lakenheath said the accident investigation board had yet to finish its study into the cause of the crash.