David Cockerton: 1,000 paintings to be catalogued and sold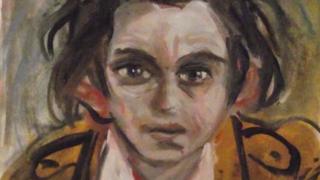 One thousand paintings by an artist who looked like a "well-dressed tramp" are being catalogued and sold in the hope of raising his profile beyond what he achieved in his lifetime.
The works by David Cockerton (1938-2010) were left to Sir Henry Lawrence, a physicist at Ipswich Hospital.
His art dealer said the paintings deserved a wider audience.
Cockerton provided the artwork for a Decca album by Denny Gerrard in 1970, but he remained relatively unknown.
Cockerton was born in London and studied art in Japan after winning a "Mastermind-type show" in 1958.
Sir Henry, the 7th Baronet of Lucknow, became friends with him in the 1970s when they lived in a "licensed squat" in east London.
"David looked like a very well-dressed tramp as his clothes were threadbare where he'd mended them a hundred times and he was carrying a couple of carrier bags when I met him," he said.
They continued to be good friends until Cockerton became ill. Sir Henry said he took time off work to help with his care.
"I wasn't expecting the inheritance, but when he was ill I sorted out his hospice care and he put me in his will," he said.
"He left me all the money in his account, some £12,000 and 40 years' worth of paintings and poems."
Sir Henry said he would be keeping some of the paintings but has not got room for them all.
"I like his work very much," he said. "It's sincere rather than pretentious."
Paul Fisk, art dealer at the Subterranean Boulevard Gallery in Ipswich, said the sale of six paintings for £100-150 each at an exhibition in November had "generated a buzz".
"He only sold a few dozen items in his lifetime for what I believe were modest amounts, although I haven't been able to trace any accurate records of prices," said Mr Fisk.
"We feel his work deserves a much wider audience."
Mr Fisk says it will take a "year or two" to catalogue the collection.