US Lakenheath jet crash pilot made 'dude' mayday call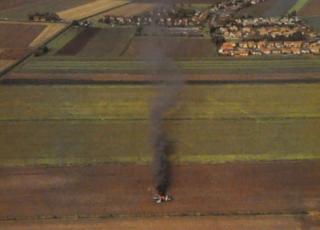 A pilot who ejected from a US fighter jet moments before it was destroyed radioed a colleague to say: "Dude, I'm getting out."
The F15-D jet from RAF Lakenheath in Suffolk crashed into a field near Spalding, Lincolnshire on 8 October.
The pilot, who ejected safely, sent the message to a colleague while on a training mission.
US Department of Defense documents reveal the jet went into a flat spin at 15,000ft (4,600m) above sea level.
'Lazy manoeuvre'
The documents, released after a BBC Freedom of Information request, show the pilot ejected at about 6,000ft (1,830m).
Transcripts of an interview with a technical sergeant, who was sitting in the back seat of another jet, reveal he was left "very shaken".
The technical sergeant said: "[The pilot from the crashed jet] said something over the radio about 'that was a bad one' or something, which I thought was just like a lazy manoeuvre, or something like that.
"I saw what I thought was smoke ... kind of brownish greyish smoke coming out from one of the engines."
He then talked about seeing the plane yaw (turn on the horizontal plane).
"A few seconds later that yaw rate increased, so he started spinning.
"After 6,000ft, number 2 [the pilot from the crashed jet] basically said 'Dude, I'm getting out'."
The £28.6m ($44m) F-15 crashed into a field near Weston Hills at about 15:30 BST on 8 October 2014.
A USAF spokesman at RAF Lakenheath said the accident investigation board had yet to finish its study into the cause of the crash.