Man guilty of threatening to set light to petrol-doused ex-girlfriend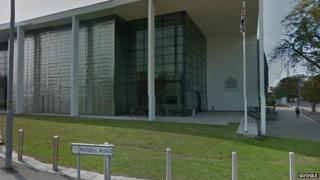 A man who threatened to set light to his petrol-doused ex-girlfriend has been found guilty of assault.
Dale Roberts, 27, of Tollgate, Bury St Edmunds, lay in wait outside the woman's house before knocking her to the ground and pouring petrol on her.
He was also found guilty at Ipswich Crown Court of attempted GBH and threatening to commit damage to property.
Roberts will return to the court for sentencing on 20 April.
Suffolk Police said he parked outside his former girlfriend's house in Bury St Edmunds on 16 August.
When she returned home, he punched her in the face and she fell to the ground where he punched and kicked her.
He then doused her in petrol from a can and stood over her with a lighter, which he flicked on.
Officers said another man intervened and Roberts threatened to burn the woman's house down before driving away.
She was left with bruises and swelling to her face, as well and cuts inside her lips.