Lowestoft residents 'furious' with third crossing plans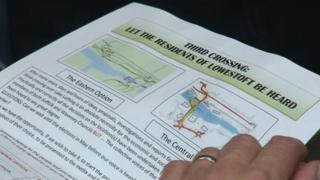 Lowestoft residents are not in favour of a proposed £94m bridge over Lake Lothing, Labour's parliamentary candidate for Waveney has said.
Bob Blizzard said most of the 250 people who attended a public meeting were against the plan to build a crossing alongside the Bascule Bridge.
He said "the people of Lowestoft" were "furious" with the plans.
The Conservative-led Suffolk County Council says the planned bridge is the most "cost effective" option.
It backed the plan last month following an assessment of the available options by independent engineers WSP.
The council hosted a meeting at Orbis Energy in Lowestoft on Wednesday night.
Mr Blizzard said: "It was a very vigorous public meeting."
He said one member of the public had asked for a show of hands of who was in favour of the council's preferred option.
Only three people of about 250 raised a hand, Mr Blizzard said.
"It just shows clearly that the people of Lowestoft are furious with the proposal that's been put forward."
The council said it considered two ideas for a more central crossing but believed its plan for the eastern end of the lake would be the most appropriate option.
Mark Bee, the council's leader, said: "Whilst I appreciate the views of the vocal group of people that attended Wednesday's meeting, there is a need for us to follow the best course of action that gives us the best chance of making this project a reality.
"We are not alone in our view, a number of businesses and people who understand the dynamics of environmental protection and business generation in Lowestoft, including ABP, believe an easterly option would be the best option for the long-term sustainability of the town."
The council has sent a report to the Department for Transport and the Highways Agency.