Ipswich's £23m Arts and Museum plans go on display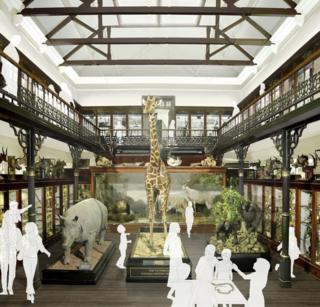 Plans for a £23m makeover of a museum, art galleries and a theatre in Ipswich have gone on display to the public.
The Ipswich Arts & Museum (I-AM) project aims to bring together Ipswich Museum, the Wolsey Studio theatre, Ipswich Art School and the High Street Exhibition Gallery.
Existing buildings would be joined and a new performance space, cafe and shop would be created.
Depending on funding, the building work could be completed by 2019.
The project was announced in 2011 and had originally been planned for 2016.
A spokesman for Ipswich Borough Council said: "We have been working with the Heritage Lottery Fund, English Heritage and key partners and stakeholders in developing the I-AM project.
"Some outline plans may have been in existence in the past, but the council is building on its acquisition of the Art School in 2012 and the development of an initial master plan taking in the whole High Street site in 2013.
"This project represents a major step forward in developing these plans, and we would like residents and businesses to give their input into how their visit would be made special in 2019, and show their support for the project."
Details of the project are on display at the museum until 28 February, and then at Ipswich Town Hall from 3-7 March.