Stag gets antlers caught in electric fence at Tuddenham Hall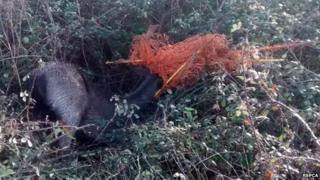 A stag had to be rescued after it was spotted with an electric fence stuck on its head.
The animal was found with his antlers tangled in the fencing at Tuddenham Hall, in Suffolk, on Monday.
The RSPCA said the "frightened animal was frantically thrashing around the grounds", trailing the fencing behind him and trying to free himself.
Four members of Suffolk's fire service held the deer down while he was cut free. He was uninjured.
Mark Thompson, the RSPCA's chief inspector, said the red stag had become tangled in the fence as it struggled to remove it without help.
"This stag was in a right fix, thrashing about the grounds," he said.
"He was frantic to get himself free and even got himself stuck in some brambles at one stage.
"This was a really strong adult deer who was also frightened and panicked."
The fencing was attached to a nearby trailer to keep the stag stationary while the fire service helped cut him free.
Mr Thompson said the deer was unhurt but "a little stressed".
"He trotted away immediately, then stopped and sniffed the air before running off again into the wild," he said.