Cefas: Future of Lowestoft site confirmed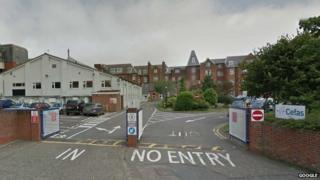 The future of the government's marine research laboratories in Lowestoft has been confirmed with a commitment to invest in the existing buildings.
The future of the Centre for Environment, Aquaculture and Fisheries Science (Cefas) in Pakefield had been under government review.
Cefas, which employs about 400 people at the site, said it would remain an executive agency of the government.
It would now work with the government on a new five year business plan.
Cefas said it could now aim to upgrade its facilities and would be seeking funding as part of its agreement with the Department for Environment, Food and Rural Affairs (Defra).
'Nailed down'
The buildings were originally a seafront hotel and a marine research laboratory was first set up there in 1902.
Cefas moved on to the site in 1955, but options in the Defra review included moving it to another town.
Peter Aldous, Conservative MP for Waveney, said: "There has been an air of uncertainty for some years and we've finally nailed this down which is a major step forward and can help build Lowestoft's reputation as a centre of marine excellence.
"It was clear that a lot of the facilities were in need of an urgent upgrade, but [Defra] has concluded Lowestoft is the best site with its immediate access to sea water and they have the Cefas Endeavour ship which needs to come in to port."