Former police station in Ipswich 'should be demolished'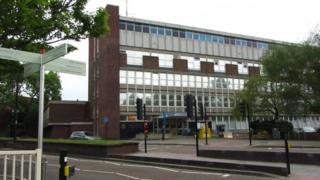 A former police headquarters in Ipswich could be demolished in the summer, at a cost of £500,000.
Due to a long-standing agreement, Ipswich Borough Council was obliged to buy the building on Elm Street in June after Suffolk Police moved out.
The council says the "vacant, dilapidated" building is costing £100,000 a year in business rates and is in need of extensive repairs.
It is due to discuss the recommended demolition on Tuesday.
A report to the council states other options, including selling the building or renting it out would be counter-productive, as it is "in a very poor state of repair and condition and will need to be demolished at some point".
It says the demolition could start on 29 June, subject to the backing of the council.
Suffolk Police's former headquarters was built in the late 1960s and includes custody offices, cells and even an "emergency bunker".
It is joined to the town's former crown court, which is currently leased to charity CSV. Under the council's proposals the buildings would be separated.
The council said structural surveys undertaken on behalf of the police in 2008 found the concrete panelling of the former headquarters needed replacing within the next five to 10 years, as did the windows and wiring.
The report to the council has recommended the building be demolished "in preparation for future development".