Sizewell A nuclear control room closes after 50 years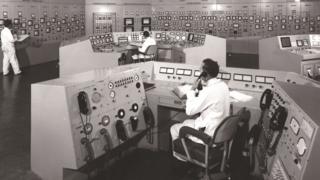 The main control room at a former nuclear power station has been closed after about 50 years in operation.
Staff at Sizewell A, near Leiston, manned the site controls for seven days a week, 24 hours a day since 1966.
The plant stopped generating electricity in 2006, and operator Magnox began the process of removing radioactive fuel from the site.
While the fuel was still on site, the plant had to operate as though it was still generating, a spokesman said.
'Starship Enterprise'
The closure of the control room is part of the site's decommissioning, the firm said.
About 300 shipments of spent radioactive fuel have been taken to Sellafield in Cumbria.
After removing the final batches of material, the spokesman said, the firm had to satisfy the Office for Nuclear Regulation all fuel had been removed.
The station produced enough energy to boil more than one trillion kettles over its 40-year lifespan.
Steve Pybus, who worked in the control room for more than 20 years, said: "People often say it resembles something like the Starship Enterprise, and coincidentally Star Trek was first broadcast in the same year that generation at Sizewell began.
"It is a sad and historic moment to see it empty, but a lot of work has been undertaken to prepare for this moment."
Remaining structures will be kept secure to allow radiation levels to "naturally decay" over time before the final site clearance, Magnox said.
It could take up to 100 years before the areas are declared clean.
Magnox said that 99% of the radioactive hazard has been removed from the site now the fuel elements held in the plant's two reactors have been removed.