Medieval monastic bones in Ipswich could aid arthritis research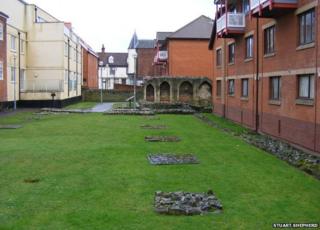 Human bones from 500-year-old monastic cemeteries in Ipswich could be used to aid modern-day research into arthritis.
English Heritage has requested the loan of bones from at least nine skeletons at Ipswich Museum.
The museum said study of the bones could provide evidence of how the disease has changed over the centuries.
The bones were excavated from the Blackfriars and Whitefriars cemeteries in Ipswich town centre in the late 20th Century.
Philip Wise, heritage manager with Ipswich and Colchester Museum Service, said: "They were looked at relatively recently and preliminary assessment concluded there was the potential to have some data recorded about arthritis.
"It could be of benefit to modern science, because you can compare arthritis to see how the disease has changed over time - it's cutting edge science.
"You can tell with the naked eye that the longer leg bones and hips have knobbly, arthritic lumps on them, so arthritis seems to have been very prevalent and the friars would have been hobbling around. There's a good chance local man Thomas Wolsey would have met some of them."
Nine friaries
The Dominican monastic order established the Blackfriars Friary in 1263 and its remains can still be seen off Foundation Street.
The Carmelite monastic order established the Whitefriars Friary in 1278, but the site is now covered by the Buttermarket shopping centre.
They were two of nine friaries in Ipswich, which disappeared with the Dissolution of the Monasteries under Henry VIII in 1438.
The remains were believed to date from 1300-1530 and are stored in nine boxes at the museum.
Ipswich Borough Council is meeting on Tuesday to decide whether it should lend the bones.
English Heritage has been unavailable for comment.