Suffolk New College ends A level course provision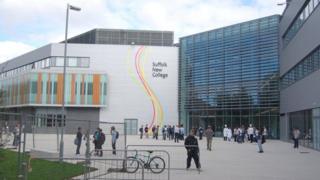 A further education college in Ipswich is dropping its A level courses next year, prompting fears of redundancies for teaching staff.
Suffolk New College (SNC) said numbers completing its 17 A level subjects had fallen by nearly 40% since 2012.
The University and College Union (UCU) said staff were in "shock" and felt it had not been properly consulted over the plan.
SNC said it was hoping staff could continue to work on other courses.
The college said it currently had 90 students doing one-year AS levels (compared to 120 in 2012-13) and a further 50 - down from 80 in 2012-13 - who had completed their AS level and were now doing a second year called A2, which provided them with an A level.
'Not stacking up'
The college said factors included more 16-year-olds choosing to do A levels at the new Suffolk One sixth form centre or one of the six school sixth forms in Ipswich.
It said older students were choosing to do its Higher Education Access courses rather than A levels.
Dave Muller, college principal, said: "The numbers are not stacking up and the class sizes are very small, with just four A2 students for accounting for instance, which is not the best experience for them.
"If the income isn't coming in it makes the classes difficult to run.
"For current students there will be no change, but we don't know if we will lose staff because we're waiting for our final funding allocation, and we're hoping to expand our HE access programme."
Ben Monks, UCU regional support officer, said: "Staff are in shock and we're still trying to find out the full details.
"We would have wanted the college to be talking to us before this headline decision was made.
"Then we could have had consultation rather than having teachers fearing redundancy."