US Lakenheath jet crash caused by nose cap fault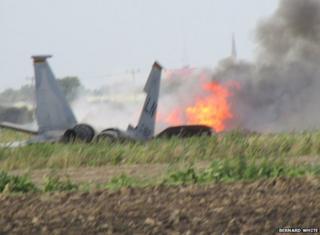 "Imperfections" in the assembly of a US fighter jet's nose cap caused it to crash during a training exercise, investigators have found.
The F15-D jet from RAF Lakenheath in Suffolk crashed into a field near Spalding, Lincolnshire, on 8 October after going into a flat spin.
Investigators said issues with the nose cap combined with the plane's "angle of attack" caused the crash.
The pilot ejected safely from the £28.6m ($44m) plane.
The USAF's aircraft accident investigation board report said "post-mishap analysis revealed a larger than normal gap between the body of the radome, or aircraft nose, and the metallic cover for the tip of the radome, called a nose cap.
"The sealant used to secure the nose cap in place extruded from under the nose cap... and formed an uneven aerodynamic surface."
'Inappropriate response'
The F-15's pilot was on a training flight with another F-15.
The report said the pilot carried out a manoeuvre that was an "inappropriate response to conditions" and which "over-controlled the aircraft".
The plane went into a flat spin at 15,000ft (4,600m) with the spin peaking at 110 degrees per second.
The pilot ejected at 6,000ft (1,830m) after he radioed the other plane to say "dude, I'm getting out" at 15.26 BST.
A review of the plane's maintenance records revealed no discrepancies to indicate engine, mechanical, flight control or other problems with the aircraft, the report found.
The report said the nose cap was refitted in January 2014, but assembly imperfections "do not significantly affect aircraft performance except in infrequent cases where a pilot commands extreme angle of attack at certain speeds".
A spokesman for the USAF at RAF Lakenheath said the pilot had returned to flying F-15s.