White-tailed sea eagle sighted on Suffolk reserve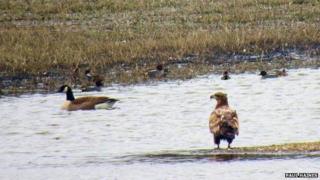 A bird-watching enthusiast has spoken of his "shock" at waking up to the sight of a rare white-tailed sea eagle.
The bird, which is on the RSPB red list, landed on a small island at the Mickle Mere Reserve, Suffolk, near Bury St Edmunds, at about 09:45 GMT.
Paul Haines, who lives next to the reserve, said: "It was a bit of shock to see an eagle like that out of the bedroom window."
The last recorded sighting of the bird in west Suffolk was in the 1930s.
The RSPB estimates only about 40 breeding pairs are now in the UK.
"I was still in bed when my wife, who isn't into birding at all, shouted 'There's a really big bird on the mere'," said Mr Haines.
"I was expecting a goose or something like that and when I looked it was like 'Wow'."
Mr Haines, who has been a keen bird-watcher for more than 30 years, said he thought the bird might have got "blown in" from northern Europe on recent high winds.
"Carrion crows and gulls were dive-bombing it as it stood on a little island, but when it took off the mere erupted with some 400 or so geese taking flight," he said.
Giles Cawston, from Suffolk Wildlife Trust, said: "This is an incredibly rare sighting, it's a once in a lifetime bird really - especially here in the UK.
"Sea eagles tend not to stick around too long so unfortunately only about six people managed to see it.
"The reserve is busy with geese and waders at this time of year - they had quite a shock when the eagle dropped in but the birders were over the moon, to tick a white-tailed eagle off their lifetime list is very special."