Apology over portable toilet on Mildenhall war memorial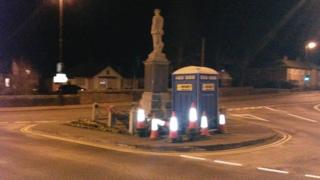 Residents who reacted angrily after a portable toilet was placed on their town's war memorial have been given an apology by the contractor involved.
The toilet was put on the Mildenhall memorial, in Suffolk, surrounded by traffic cones.
On Facebook, residents said it was "disgusting and disrespectful" and the parish council reported it to Suffolk County Council.
Kier Group said it was there for safety reasons but apologised for any offence.
One resident who photographed the toilet on the memorial, posted it on Facebook, saying: "Is it just me being daft or does this show a complete lack of respect to people who gave their lives fighting for our freedom?"
Others responded angrily, sharing the picture on a community group page.
It was branded "inappropriate, disgusting, wrong and disrespectful".
Parish council clerk, Mandy Maguire, said she reported the toilet's unusual location to Suffolk County Council's highways department.
"I think it could have been put in a better place," she said. "It's not an appropriate place for it."
The plastic toilet was removed sometime on Friday.
A spokesperson for the county council said: "The toilet was put on the traffic island where the war memorial is located, while necessary resurfacing took place on Kings Street.
"It was moved by our contractors after two days and has since been collected."
Contractor Kier Group Plc, said: "A portable toilet was placed on the traffic island adjacent to the war memorial, for a period of 48 hours.
"The location was chosen to keep it away from live traffic but in this particular instance, more thought should have been given to the location rather than simply focussing on safety and we are sorry for any offence this may have caused."