Suffolk to USA councillor Brian Riley asked to step down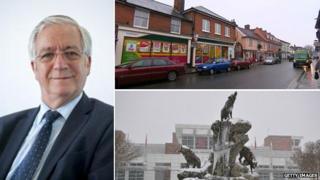 A Suffolk councillor who is moving to the United States has been formally asked to stand down by the council leader.
Brian Riley is moving to North Carolina but was not planning on resigning from his Hadleigh seat on the county council.
He has been thrown out of the ruling Conservative group as a result.
Mark Bee, Conservative leader, met with him on Thursday but Mr Riley has not revealed any change of plan.
Suffolk County Council's legal officers confirmed Mr Riley was entitled to his £10,273.74 members' allowance, as long as he attended at least one meeting every six months.
A Suffolk County Council spokesman said the local authority had no legal power to suspend Mr Riley, even if his actions were found to be a breach of the members' code of conduct and it could not withdraw or deduct his allowance.
Mr Bee said previously: "We have been quite nonplussed by the suggestion that a councillor who represents a place like Hadleigh can feel that they can do that job and live 4,000 miles away.
"We don't feel that represents the spirit of being a locally-elected representative and the spirit with which that person is elected."
Mr Riley has not responded to the BBC's requests for interviews but he told the East Anglian Daily Times he intended to use email and Skype to continue in his role and would fly back to the UK "every six or seven weeks".
The council spokesman said Mr Riley could not claim further flying expenses on top of his allowance but could claim for travel between Hadleigh and council meetings in Ipswich.