Oscar-winner Mat Kirkby claims Orford doughnuts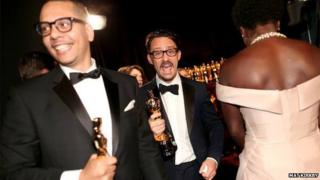 An Oscar-winning director has returned to the bakery he mentioned during his acceptance speech to claim the first of his lifetime supply of doughnuts.
Best live action short winner Mat Kirkby was promised doughnuts "for good" after namechecking Orford's Pump Street Bakery at last month's ceremony.
He took his statue into the bakery to receive his first offering.
"I've had nine doughnuts this weekend and am having second thoughts," he said.
Kirkby, who is from Shottisham in Suffolk, won the award for The Phone Call, which stars Sally Hawkins and Jim Broadbent.
The 20-minute film is about a volunteer who works for a helpline call centre in London.
Kirkby said the Oscar ceremony in Los Angeles was like a "dream".
"If you've got a little bumpkin brain you can only take so much," he said.
"I got a lot of high fives and selfies and things. When I came off stage Gwyneth Paltrow was in the wings and she gave me a high five.
"I said 'at least I didn't cry', and then she punched me."
Kirkby said he stayed in LA after the ceremony for meetings at "big studios".
"You take your gold statue in and their eyes light up," he said. "You realise that some of these famous people haven't got one of these things that you've got - it was pretty special."
He is now going to concentrate on pitching scripts he has written for feature films.
"I'm just trying to make the most of it before the drawbridge goes up," he said.