Suffolk County Council leader steps down for 'fresh approach'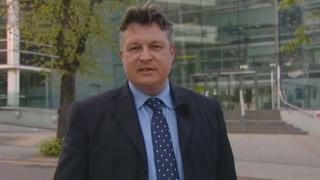 The leader of Suffolk County Council has said he is standing down after four years to allow a "fresh leader" to take his place.
Mark Bee began as leader of the Conservative-run authority in 2011, taking over from Jeremy Pembroke.
Mr Bee told the BBC it was time for someone with a "fresh approach" to take over.
He said the Tory group faced its next electoral test in two years' time, so now was a good time to step down.
"It gives time for a new leader to come in and bring the group together. It's time for the new leader to get established," he said.
"I'm looking to continue working in local government."
He said he was proud of his leadership and believed he had helped improve the council's reputation.
Last April there was an unsuccessful challenge to Mr Bee's leadership by Colin Noble, who was later dropped from the cabinet.
A new leader is expected to be chosen when the group has its annual general meeting on Tuesday.