Crashed Suffolk fire engine 'skidded on ice'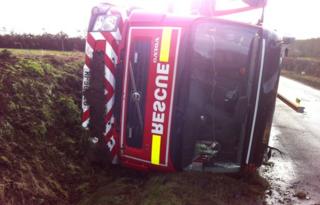 A fire engine responding to an emergency overturned after skidding on ice, an investigation has found.
The vehicle crashed into a verge at Onehouse near Stowmarket, Suffolk, and ended up on its side, at about 09:00 GMT on 29 January.
One crew member was knocked unconscious and taken to hospital. The fire engine is being repaired.
An investigation by Suffolk Fire and Rescue Service found the crash was an accident and no-one was to blame.
The speed at which the fire engine was travelling has not been disclosed.
The engine, from Stowmarket, was responding to a two-vehicle crash at Stowmarket Road, Shelland, in which several people were taken to hospital.
The fire engine ended up on its side on Lower Road, Onehouse and the other crew members were uninjured.