Tonnes of waste dumped at Walsham-le-Willows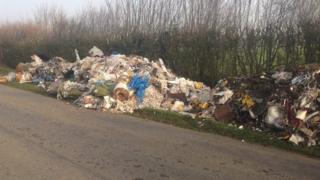 Some 40 tonnes of industrial waste have been dumped on a road in rural Suffolk.
The rubbish, described as building material and household waste, was left at the side of Finningham Road, Walsham-le-Willows near Bury St Edmunds on Thursday night.
Suffolk Police said it was a "potential danger to motorists and other members of the public".
Officers and the Environment Agency are working to remove the waste.
Police said it appeared to have been unloaded using a tractor and trailer.
PC Mark Bryant said: "It will take a significant amount of time for the agencies involved to remove it.
"Acts such as this can cause serious damage to the local environment and I would urge anyone who knows who is responsible to contact us immediately."