Aldeburgh Festival concert in Ipswich multi-storey car park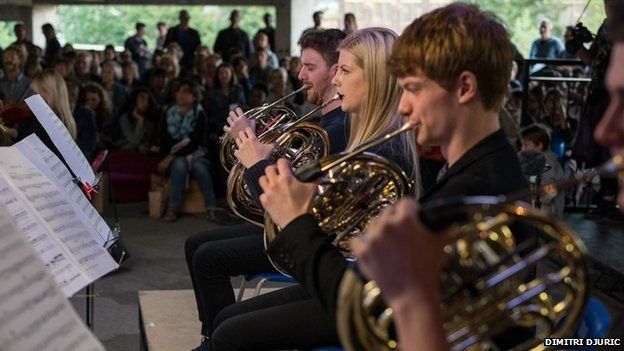 A world-renowned classical music festival, based on the Suffolk coast, is bringing one of its concerts to an urban multi-storey car park.
The Aldeburgh Festival mainly takes place around the town and at Snape Maltings Concert Hall.
This year, the Multi-Story Orchestra will be performing at the Suffolk County Council staff car park in Ipswich on Sunday, 14 June.
The organisers said they were trying to reach new audiences.
The festival, founded by Benjamin Britten in 1948, features about 50 concerts and events.
People living in Ipswich can apply for free tickets.
Roger Wright, chief executive of Aldeburgh Music, said: "It's something quirky and you might be able to attract an audience which maybe doesn't know which concert hall it should be going to or what a concert hall experience really is.
"We look to Ipswich as part of our geographical outreach and part of the community we want to attract to the whole range of things Aldeburgh Music puts on."
The Multi-Story Orchestra was founded in 2011 with the aim of introducing news audiences to classical music using non-concert hall locations.
Kate Whitley, orchestra founder, said: "We initially spent a day walking around pretty much every car park in Ipswich and found the acoustics were better in this one than the one we're based in in Peckham.
"When I was young and trying to get my friends to come to classical concerts they were often incredibly long and boring and they would say 'never again', so I've started putting on short concerts in places where you wouldn't expect classical music."
The performance will also feature pupils from local schools including Northgate High and Rushmere Hall and Sidegate primaries.
Related Internet Links
The BBC is not responsible for the content of external sites.