American ineligible for election to Debenham Parish Council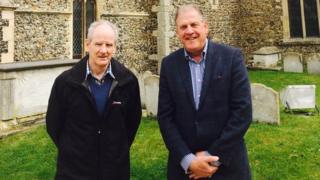 An American, serving as a councillor in Suffolk for four years, has been told he cannot stand for election in May as he does not have British citizenship.
David Hughes, 56, was co-opted on to Debenham Parish Council in Suffolk in 2011 to help fill vacant seats.
He was due to stand for election for the first time on 7 May but withdrew after discovering his nationality prevented him from doing so.
The chairman of the council said the electoral rules needed reviewing.
"I originally came here through my father being in the American air force and I've spent virtually all of my life in the UK and been educated here," Mr Hughes said.
"It shouldn't matter which nationality you are - it's about your heart being involved in the community."
'Extra pressure'
The council said co-option forms did not require Mr Hughes to declare he only had US citizenship, but the forms for next month's election did.
Electoral Commission rules state a candidate has to be a British or European Union citizen or an eligible Commonwealth citizen.
Richard Blackwell, chairman of Debenham Parish Council, said: "Fifty percent of Suffolk parish councils don't have enough people serving on them and it puts extra pressure on those serving in the role.
"This whole election process needs a review of what's appropriate now, not what was appropriate 50 years ago."
An Electoral Commission spokeswoman said: "The Law Commission is currently undertaking a review of electoral law in the UK.
"As part of this it will be looking at the different qualifications for standing in elections in the UK.
"Whilst we think some of the basic qualifications in place for local government elections, including age and citizenship, are appropriate and easily understood there are other areas that are overly complex and need revision."