Lil' Chris did not seem 'different' before death, says sister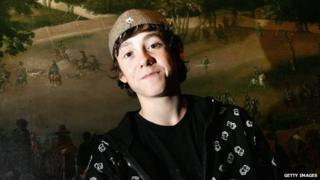 The sister of reality TV star Lil' Chris says he had not appeared any different in the days before his death.
Lil' Chris, whose real name was Chris Hardman, rose to fame in Channel 4's Rock School.
An inquest opened on Wednesday heard the 24-year-old's death on 23 March in Lowestoft was caused by hanging.
Speaking on ITV's This Morning, his sister Hannah Hardman said she and others felt they "should have done something more".
She said his struggle with mental health began as an adolescent, adding: "He was always very open about it, which was a positive thing."
Producer Guy Barnes worked with Lil' Chris on his final track, Louder.
Mr Barnes said: "When I played the demo mix back to Chris he was jumping around all over the place, saying 'ah man, this is it'. That made me smile."
Asked what will happen to the recording, Mr Barnes said: "It's up to his family.
"I know (his family) are thinking about setting up a charity. I would like all the money to go to the charity.
"I think it would be a good idea for this to be a song that shouts out to everybody else with manic depression, anybody else that's out there who has problems, this could be a legacy for them, their anthem."