Dunwich heath land bought by National Trust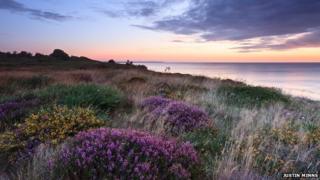 A stretch of coastal heath land in Suffolk has been bought for £200,000 to preserve it for future generations.
Grants were used from two different sources to buy more than 36 acres at Dunwich, which will be managed by the National Trust.
It means the section, which is home to nightjars, woodlarks and warblers, will be open to walkers and visitors.
The trust says it made the purchase as the coastline constantly changes due to coastal erosion and extreme weather.
Footpaths around newly re-named Mount Pleasant Heath have been widened and maps of Dunwich Heath will be updated to help visitors explore the land.
Dr Helen Dangerfield, head of conservation for the National Trust in the east of England, said: "We know this part of the Suffolk coast is subject to constant change.
"As erosion constantly changes the land, it is vital for us to plan ahead and ensure we are providing places for both our visitors to explore and for wildlife to thrive."
Formerly farm land, Mount Pleasant Heath was purchased with £50,000 funding from National Trust coastline campaign Neptune and a grant of £150,000 from WREN (Waste Recycling Environmental Limited), which funds community, conservation and heritage projects.