Ipswich Hospital bosses submit £100m rebuild plan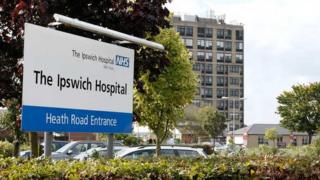 A £100m redevelopment plan of Ipswich Hospital's "inefficient" site has been submitted.
The NHS trust wants to replace some of the older buildings.
Nick Hulme, hospital chief executive, said: "It's like a museum of the NHS - we're still providing care out of buildings that were built in 1897, so we need to make sure the site is fit for purpose."
The plan is being considered by the NHS Trust Development Authority.
The redevelopment would keep the more modern buildings such as the Garrett Anderson Centre, which opened in 2008.
Mr Hulme said it was not just about the hospital, but was a "vision for healthcare in Ipswich and east Suffolk".
"We need to get the system right and work in a more integrated way with partners in health and social care with less reliance on the hospital," he said.
"It's an inefficient hospital - we've got 19 theatre suites and we could probably manage the activity through 12."
'Banging on doors'
The Conservative MP for Ipswich, Ben Gummer, is campaigning for the re-development.
He was appointed junior health minister last week, but said it did not mean there was a conflict of interest.
"In the end, this is a decision that's going to be made in the Treasury, because it's a large amount of money," he said.
"The hospital's got a robust plan and my job as the constituency MP is to make sure I'm banging on doors at Whitehall so we can get it funded."