Closed Felixstowe Spa Pavilion 'needs £1m refurb'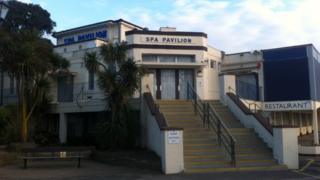 The new owners of a seaside theatre that closed in 2013 have said more than £1m of investment is needed.
Felixstowe's Spa Pavilion closed when Conservative-run Suffolk Coastal District Council said it could not pay £250,000 a year to keep it open.
NRG Theatres bought the 800-seat venue from the council for £1 and is completing on the purchase.
The company said it hoped to have events at the boarded-up building by "late August".
NRG was formed to take over the Spa, which opened in 1909 and celebrated its centenary four years before its closure.
Ray Anderson, chief executive of NRG, said: "We will have to spend well over £1m to get the Spa to where we want it to be, but that will take a year to 18 months before all the investments are done.
"But we want to get it open and have something going on there by late August with events through the winter and we've already contracted a pantomime for Christmas.
"It will be tough, there's no doubt about that, but we did identify where the previous management made mistakes and we can improve on that."
'Exciting future'
NRG said investment was needed to fix leaks in the roof, re-render and paint the exterior, change the interior colour scheme, install sound and kitchen equipment and provide facilities for television filming and conferences.
Geoff Holdcroft, the councillor who has overseen the closure and search for a new operator, said: "As a company they haven't got a track record, but they have as individuals and having talked to them for over a year I look forward to an exciting future.
"We needed to secure investment and by taking just £1 for the theatre, the new company is able to invest its money entirely into the building and shows."