Prisoner Russell Ireland given life terms for jail attacks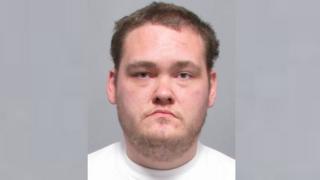 A prisoner serving seven years for taking a family hostage and attacking a teenager has been given two life terms for attacks on fellow inmates.
Russell Ireland, 31, was jailed last year for assaulting a man and holding a family hostage in Ipswich.
He has now been convicted of attacking a Norwich jail inmate with a chair leg and admitted stabbing a prisoner at HMP Bedford with a doctored paint brush.
Ireland has been given two concurrent life sentences at Luton Crown Court.
His crime spree in Ipswich in October 2013 began with him assaulting a 16-year-old in a hotel on Ancaster Road and then holding three people hostage at knifepoint in a house in Cullingham Road.
While on remand at HMP Norwich, he attacked another prisoner with a metal chair leg leaving him with head wounds and concussion.
He was jailed for seven years for the Ipswich offences in March 2014.
'Last cigarette'
While serving his sentence at HMP Bedford he repeatedly stabbed another prisoner using a modified artist's brush.
Sally Mealing McLeod, prosecuting counsel, said Ireland called the 20-year-old victim, who was serving a 12-month sentence for handling stolen goods, into his cell.
She said Ireland told him: "I will let you smoke your last cigarette, this is where you die today."
The victim was rescued by other inmates and he escaped with 11 superficial stab wounds.
Judge Michael Kay said a psychologist had interviewed Ireland nine days before the assault at Bedford and "her report makes chilling reading".
"She says he presents a very high risk of serious harm to others and towards peers and staff in a custodial environment," he said.
"She did not consider he was manageable at his current location in Bedford prison."
Ireland is serving his life sentence at a special unit at HMP Woodhill in Milton Keynes.
The judge said he would serve a minimum of eight years before being considered for release.
Det Insp Alan Page said: "Ireland is an incredibly dangerous man so we're very pleased he will be locked away for a very long time - he will only be allowed out when he's deemed safe."