Two riders injured in Ipswich circus 'thunderball' stunt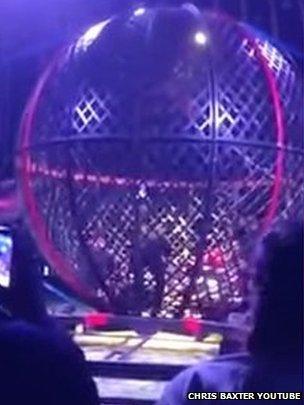 Two circus performers have been injured in a crash during a motorcycle "thunderball" stunt.
The men crashed while riding around at speed in a spherical cage at Uncle Sam's American Circus at Chantry Park in Ipswich on Monday.
The area was evacuated and emergency services including the air ambulance were called at about 17:00 BST.
Both men were said to be in a "stable" condition at Ipswich Hospital. An investigation is under way.
A 29-year-old man suffered internal injuries to his liver and a 31-year-old man suffered facial injuries.
A spokesman for the East of England Ambulance Service Trust said: "Both patients' injuries are not thought to be life-threatening."
The circus posted a statement on its Facebook page which said the riders were "doing well" and are "soon to be on the mend".
"To all our audience... we would just like to thank you all for your support during the accident with our thunderball riders."
"We want to thank you for your understanding as we had to cut short the show... However our riders' safety was, and is, our main priority," the company said.
Suffolk Police are appealing for witnesses and Ipswich Borough Council confirmed it would be carrying out an investigation.