Newmarket racecourse 'Devil's Dyke' gig safety fears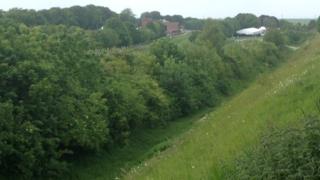 A footpath at Newmarket racecourse is to be diverted after fears that revellers could fall into a 100ft ditch during a series of rock concerts.
The Devil's Dyke pathway has previously been used as a vantage point by people without tickets to the Suffolk Newmarket Nights summer season.
In 2013, when Jessie J played a sell-out gig, about 800 people were on the dyke. There are concerns that similar numbers could gather for shows by Kylie Minogue and Kaiser Chiefs.
The path will be diverted for all gigs.
The footpath along the Anglo-Saxon earthworks crosses land owned by The Jockey Club.
Although a spokesman said it was "used responsibly" most of the time, "it has become a potential hazard during late Friday evening concerts".
Parts of the stage and the big screens used during the concerts can he seen from the dyke through gaps in the trees.
Amy Starkey, director of Jockey Club Racecourses East Region, said: "Some years ago, it was a minor issue that a small number of people were on Devil's Dyke during concerts. However, it is increasingly becoming a potentially significant one.
"In places the dyke is up to 100ft high and it is dark when concerts begin. That combination becomes a hazard especially when people are drinking and dancing, and someone may fall and injure themselves or others."