Dunwich archaeological dig unearths signs of early life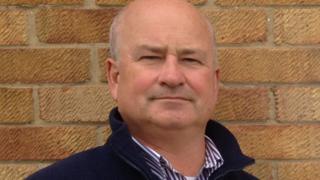 Signs of Neolithic life have been discovered by volunteer archaeologists probing the ground of a "lost" settlement in Suffolk.
It was hoped medieval artefacts would be unearthed during the summer dig at Dunwich, so experts were excited by a find dating back to the Neolithic era.
The dig, organised by Touching the Tide project, also found new evidence of an Anglo-Saxon settlement.
Artefacts from the survey will go on display at Dunwich Museum next year.
'Prehistoric profile'
A Neolithic scraper used on animal hides or wood was one of the discoveries, as well as many shards of Anglo-Saxon pottery.
Bill Jenman is project manager at Touching the Tide, a Heritage-Lottery funded scheme to help look after the Suffolk coasts.
"We were quite pleasantly surprised when lots of Anglo-Saxon stuff started turning up and we were very pleasantly surprised when lots of prehistoric stuff turned up.
"There's definitely a prehistoric profile we didn't know about before.
"Certainly by Roman and... the Anglo-Saxon period... there's a concentrated settlement, so the roots of Dunwich as a town we can say go back to the Iron Age now," he said.
Touching the Tide has also been involved in the Underwater Dunwich project to map "Britain's Atlantis".
The recent dig was led by archaeologist Carenza Lewis, from Cambridge University, and was carried out together with Dunwich Museum and the Dunwich Greyfriars Trust.
The museum plans to display some of the discoveries next spring, once they return from Cambridge.
Jane Hamilton, of the museum, said: "They went incredibly deep... and brought up this mass of material which gives an insight into the history as it's been laid down over the centuries."