Kesgrave Hall school sex abuse: Victim slept with 'one eye open'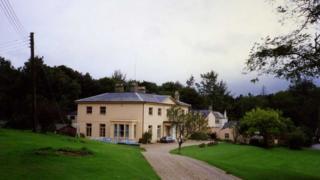 A pupil abused at a boarding school where two teachers have been jailed for sexual abuse has told how he slept in fear with "one eye open".
John McKno, 70, of Alby in Norfolk, admitted nine acts of sexual indecency committed against five pupils at three different schools in the 1970s and 1980s and he has been jailed for 14 years.
One of the schools was Kesgrave Hall near Ipswich, described at the time as a school for children with behaviour problems, but who had above-average intelligence.
Children were sent there from across the country by their local education authorities and it had about 40 pupils and 12 staff at any one time.
'Lying in bed scared'
Lee Woolcott-Ellis, now 51 and living in Kent, was a pupil at the school from 1975 to 1980 and helped police with their investigation, which eventually traced two Kesgrave victims of McKno.
"I've said in court it was a paedophile ring - they all knew each other, took part in indecent assaults and followed the same modus operandi," he said.
"They learnt from each other - the corporal punishment was the same with implements crafted to inflict damage such as cooking spoons wrapped with insulating tape.
"They would remove your trousers and underwear and you would end up with bruises and cuts - and then it was indecent exposure and indecent assault.
"The sexual stuff happened in the dorms - you were lying in your bed scared and you generally slept with one eye open."
McKno worked at Kesgrave between 1986 and 1987 but his history of offending took in two of his previous schools - Beam College in Devon (where he taught from 1978 to 1979) and St Michael's College in Worcestershire (where he taught between 1979 and 1985).
In 1999, another former Kesgrave teacher was convicted of child sex offences.
Alan Stancliffe was jailed for two years for indecent assaults on three boys between 1977 and 1981, one of whom was Mr Woolcott-Ellis.
Stancliffe, who had moved to Pontefract, was re-arrested as part of the latest investigation, following further allegations, but he died aged 65 in 2014.
"He was a particularly unpleasant predatory paedophile," said Mr Woolcott-Ellis.
One of the two pupils who were victims of McKno at Beam College said he was sent there from his secondary modern school in another county because he was a "naughty little boy".
He is now a middle aged man and wished to remain anonymous.
He said: "In the beginning McKno came across as a very nice maths teacher, a fair teacher and I did well in maths.
"I can't go into too much detail but I was abused at school, which ruined my childhood and my trust of teachers, although it only happened once.
"I was scared, kept myself to myself and shut my mouth."
'Isolated'
Mr Woolcott-Ellis said the culture at Kesgrave Hall meant it was hard to speak out.
"You're completely isolated - I was taken away from the family home and I had no-one I could talk to and confide in," he said.
"The one occasion where I did try and write back home and tell my mother what was happening, I was turned in by a lady I'd asked to post the letter and I was badly beaten as a result.
"Everyone knew it went on, but you never spoke about it.
"Up until the age of 50 it affected me quite badly - relationships, trust issues, behavioural issues, anger and psychological things going on.
"But in the end I chose to find these people and deal with them in the courts of justice."
---
The police investigation
Suffolk Police closed its original investigation into further suspected sexual abuse at Kesgrave in 1992, but the inquiry was reopened in 2012.
Three other former Kesgrave staff, who were part of the new inquiry, died in 2014:
Kenneth Wheatley, 62 and also known as Kenneth Scott, was arrested on suspicion of sex offences and found dead on a railway line near his home in Barnsley
David Brockman, 59, who lived in Huntingdon, was questioned by police on suspicion of sex offences and died of natural causes
Michael Lafford, 67, who was questioned about physical abuse rather than sexual offences, took an overdose and died at his home in Bicester, Oxfordshire
Det Con Wendy Leah said they had contacted about 100 former Kesgrave pupils and there were several reasons why the latest inquiry was more successful than the previous one.
"I think a lot has changed in that time - victims have more confidence in speaking out, more confidence they'll be listened to and be believed and, post-Savile, the public have a realisation this could have happened to people," she said.
"McKno's offending has a massive impact on the victims and I don't underestimate how difficult it would have been for them to come forward.
"They have shown a great deal of courage."
Asked if she believed a paedophile ring existed at Kesgrave, she said: "There obviously was abuse, but I wouldn't use the description 'paedophile ring' - there's certainly not a conspiracy among teachers as far as I'm aware.
"We have made exhaustive inquiries to locate ex-pupils and staff and, at this time, the investigation is concluded and there won't be any further prosecutions."
---
Mr Woolcott-Ellis, who now works in the railway industry, said not everything about the school was bad.
"There were decent, kind people there who tried to do the right thing and I remember one teacher spoke out, but he was gone the following week," he said.
Det Con Wendy Leah said some of the 100-plus former pupils they had contacted since 2012 had had a great time at the school and gone on to lead successful lives, but she acknowledged the victims of the abuse had talked to her of "horrific, traumatic and distressing incidents".
She said: "I'm pleased with the sentence and the victims can move on with their lives - I'm sure it will stay with them, but hopefully now justice has been served it will make it that little bit easier for them.
"If anybody else does decide to come forward with fresh information as a result of this sentencing, then we will willingly speak to them."
While Beam College and Kesgrave Hall closed and the buildings are not used as schools, the Worcestershire premises McKno taught at is still a school.
St Michael's College, which was a private preparatory school, closed in 1985 and one of McKno's victims was taught by him there.
The site has been used by King's College St Michaels, another fee-paying school, since 1992.
The current principal said it was an "international mixed boarding school", with no link to the previous establishment.