TA soldier from Woodbridge wins damages after Afghanistan accident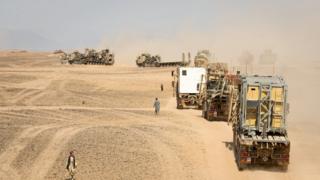 A soldier who was left with lifelong muscular pain after an accident in Afghanistan has won a payout of £100,000 from the Ministry of Defence.
Territorial Army soldier Kieran Murphy, now 26, of Ipswich Close, Woodbridge, Suffolk, was injured at Patrol Base Nahidullah in October 2010.
Mr Murphy was hit by material used to create roads for tanks, which was being uploaded from a lorry.
He developed fibromyalgia, a rheumatic condition causing muscular pain.
After being evacuated to Camp Bastion for treatment, Mr Murphy was flown back to the UK in December 2010.
'Widespread pain'
His counsel, Scott Matthewson, told Judge Rosalind Coe at London's High Court: "It is common ground that he suffers from that now and will suffer from widespread pain, albeit of varying intensity, for the rest of his life."
Mr Murphy was discharged from the Army in September 2013 and now works as an estate workforce manager in the NHS.
The MoD admitted breach of its duty of care but disputed the accident caused the condition, which can occur spontaneously, and the amount of compensation.
On Monday, the judge said that causation was established and that the accident led to Mr Murphy developing fibromyalgia.
The final amount of damages - which includes awards of £30,000 for pain and suffering and £10,000 for loss of congenial employment plus sums for lost earnings - has yet to be agreed but lawyers assessed the total as more than £100,000.