Ipswich Cornhill: New grant to help fund £3.35m town revamp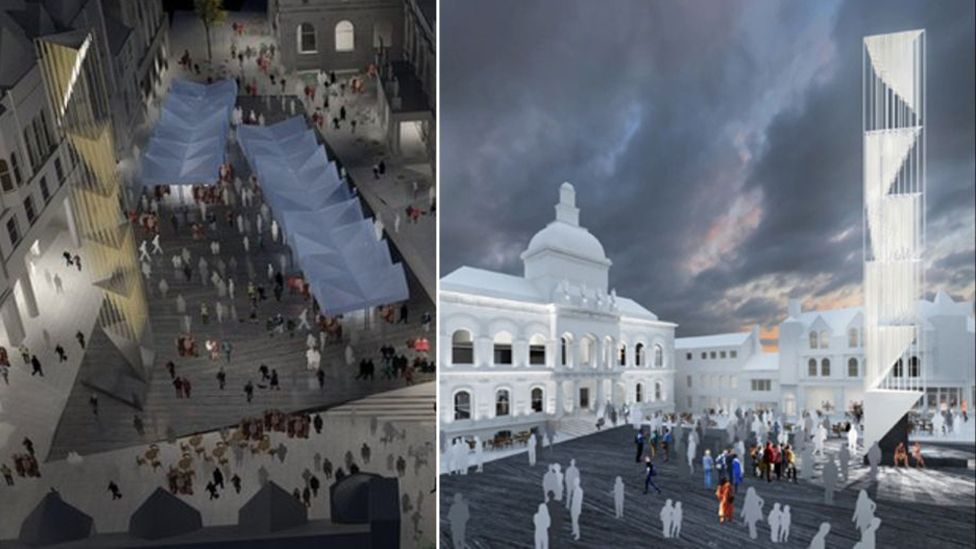 A £3.35m revamp of Ipswich town centre is set to go ahead after the final funding package was secured.
The New Anglia local enterprise partnership (LEP) has announced it is providing £1.6m in funding towards the scheme.
Suffolk County Council and Ipswich Council have already committed £1.75m.
The plans could see the Cornhill levelled, new paving and potentially a new central focal point or monument.
The scheme aims to create more than 300 jobs and apprenticeships.
Dave Muller, chair of Ipswich Chamber of Commerce, said: "Economic growth is the lifeblood of Ipswich. This investment will mean more jobs, more businesses and more exciting opportunities for firms and people across the town and the county in the months and years ahead."
Town centre revamp six years in the making
Richard Haugh, BBC News Online
The news that the Cornhill in Ipswich is to benefit from a £3.35m renovation comes three-and-a-half years after Sir Stuart Rose, a resident of Suffolk and former chief executive of Marks & Spencer, offered to step in to spruce up the "shabby" focal point of the town.
Fifteen months later, it seemed like full steam ahead as a new vision was announced for the Cornhill - an overhaul which would see a tower installed opposite the Town Hall.
But then...nothing. Well, for a year anyway. In January 2015 business leaders expressed their frustration that the funding had yet to be secured, as the county council committed money to other projects in the town.
Now, the project, and Ipswich itself, seems to have turned a bit of a corner. The Labour-led borough council and the Conservative-run county council appear to be working in unison, with the town's MP Ben Gummer saying civic leaders had crossed "no man's land" to collaborate.
With the money now in place, Ipswich could have a new look by 2018 - six years after the idea was first mooted.
Related Internet Links
The BBC is not responsible for the content of external sites.