Sylvia and Peter Stuart: Friends to search for missing widow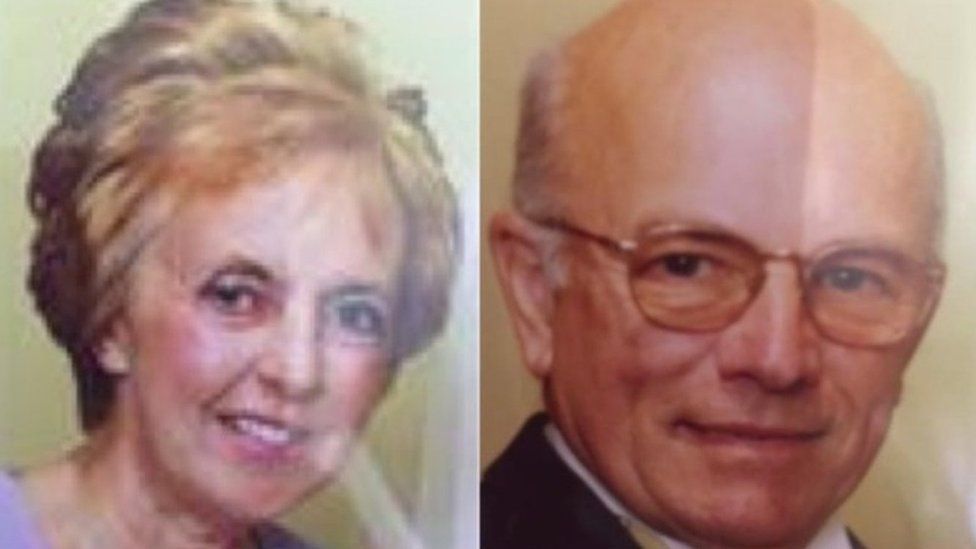 Friends of a murdered man and his missing widow have searched along public footpaths around the area where they lived.
Sylvia and Peter Stuart, aged 69 and 75, were reported missing on Friday 3 June. Mr Stuart's body was found near their home in Weybread, Suffolk, later that day. He had been stabbed.
Sylvia Stuart is still missing.
Ali Qazimaj, 42, of Tilbury, is wanted over the murder and disappearance.
A group set off from a pub in Wortwell earlier and Suffolk Police are aware of the search.
Wortwell is near Harleston in Norfolk and about five miles from Weybread. It is an area of fields, hamlets and the River Waveney, which is the county border.
David Wood, who knew the couple through line-dancing, described them as "lovely and friendly", with Mr Stuart "always messing around in class".
"Our hearts still hold out hope for Sylvia. The best scenario would be for her to be find alive somewhere, but the trail seems to be getting cold now.
"We were frustrated that there was nothing we could do, at least this is something we can do."
Karen Poll said the Stuarts attended several line-dancing classes around the Diss area.
The couple, last seen in public at a farm shop on Sunday, 29 May, had apparently missed classes that week.
The local group she teaches continued with its class on Thursday, almost a week after Mr Stuart was found.
"It was difficult, but we decided Peter and Sylvia would have wanted us to do that, because they loved their dancing.
"The class wanted to carry on, it was a tough night, but it was nice to have everybody around and console each other."
On Friday, police searched fields near the couple's home in Mill Lane.
Police believe Mr Qazimaj boarded a ferry from Dover to Calais on 4 June, the day after Mr Stuart was found dead.
His car was found on a terraced street within sight of the ferry terminal.
Any connection he may have to the Stuarts is not known.
The couple's son-in-law Steve Paxman, 61 and from Leicester, was arrested on 5 June in connection with Mr Stuart's death, and released on police bail until 3 August.