Gerard Singer 'systematically abused boys at St George's School'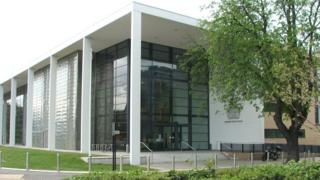 A teacher at a boarding school "systematically groomed and sexually abused" boys, a court has heard.
Gerard Singer, 69, denies abusing nine former pupils at St George's School, which was first based at Wicklewood, Norfolk, and then Great Finborough in Suffolk, between 1978 and 1981.
One witness said he was given wine, tied face down to a bed and awoke with a "pain in his bottom".
Prosecutor David Wilson said Mr Singer "abused his position of trust".
Ipswich Crown Court heard Mr Singer, who lives in northern France, was employed as a language teacher at St George's, which moved to Suffolk in 1980 when the Wicklewood school became girls only.
'£20 not to talk'
In an opening statement to the court, Mr Wilson said the teacher took advantage of his position by "befriending pupils before then engaging in acts of a serious sexual nature".
He said gifts including a calculator and sweets were given to pupils to win their favour, and the abuse also happened on trips abroad.
One former pupil will give evidence, Mr Wilson said, about how he woke up in "excruciating pain" after being given a tablet. He believes he had been sexually abused by two men, one of whom was the defendant.
When the boy left the school he says he was given £20 by Mr Singer and told not to talk about what happened.
Another boy says he was abused "on a regular basis" by Mr Singer and Derek Slade, the school's headmaster at the time, when he was about 11-years-old.
Mr Wilson said Mr Singer left the country in 1981 after he had been confronted about the alleged abuse.
"You will hear that it seems the net was closing on the defendant as it became apparent he was engaged in sexual activity with a number of pupils," Mr Wilson said.
The court heard that in 1998 Mr Singer was convicted of offences of sexual aggression on minors under the age of 15 in France, relating to offences committed between 1994 and 1997.
Mr Singer has denied 28 charges, which include performing oral sex and gross indecency.
The trial is expected to last two weeks.